Large Format Scanning and Digital Conversion
Preserve and Modernize Blueprints, Architectural Drawings, And Other Large Documents With Our Scanning Services
Document Scanning in Trabzon and Erzurum, Turkey
Come to The Copy and Shipping Center For All Your Document Scanning Needs
Our document scanning and imaging services can transform your paper piles into text-searchable digital images. Instead of dealing with file cabinets or off-site storage, your documents can be filed digitally to a DVD or flash drive. Save time by finding documents faster. Save money by reclaiming valuable office space and reducing paper costs. And, save yourself a lot of headaches by handing your project over to the professionals at The Copy and Shipping Center who can turn your project around quickly and accurately.
Fast & Convenient Scanning
Turn your hard copies into electronic files.
Easily organize and share important documents.
Preserve memories with our photo scanning service
Digitize Your Business Today
Provides large format scanning and digital conversion services for building facilities departments and other organizations that rely on blueprints, engineering drawings, architectural drawings, and construction plans in their daily operations. Wide format scanning also includes digitizing maps, newspapers, posters, and oversized historical documents. Converts paper documents into top quality, high resolution digital files such as TIFF, PDF, JPG, and uploads them to the cloud, on external hard drives, thumb drives, or document management systems.
Large Format Document Types
Wide format documents include blueprints, construction documents, architectural drawings, and engineering drawings
Oversize documents include posters, maps, and other paper documents
Paper documents up to 48 inches wide, of any length
Color Scanning Preserves Markups
Many scanning projects are about more than just the original document. Over time, crucial information gets added to blueprints or other plans as written notations in pen or pencil. For these documents, color document scanning is available for the preservation of mark-ups and redlining, color-coded schedules, or historical documents and maps.
Scanning Options
Scan at full original scale (100%)
Scan in black & white or in full-color
Scan and save to multiple file types based on client requirements (PDF, TIFF, JPG)
Repair damaged or torn documents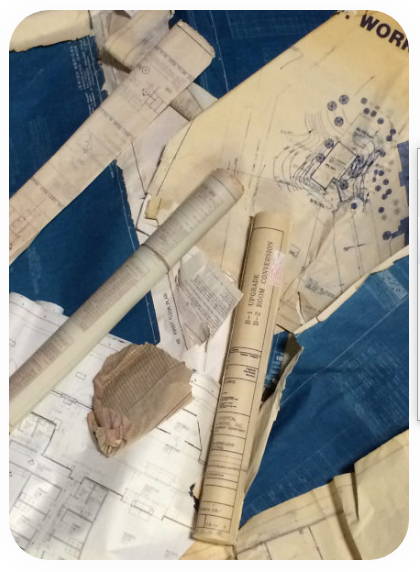 Skills and Experience for Preserving Older or Damaged Documents
Careful handling is required to scan large documents, especially blueprints which are typically older and more fragile and may have degraded over time. Our staff are fully skilled at restoring and repairing documents as needed as part of preparation for the scanning process. Fragile documents can be placed in acetate sleeves for additional protection during scanning.
Fragile Documents Can Be Placed in Acetate Sleeves for Additional Protection During Scanning
Process can also improve contrast during scanning. Original blueprints with a dark background with white lines can be reversed. Our scanning capabilities also allow us to take a reverse mylar and flip the image so that it is read correctly. Light or faded originals can be darkened during the scanning process and dark originals can be lightened.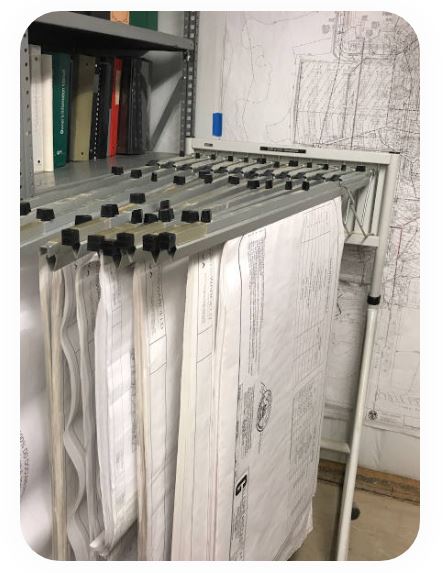 Drawing Sets
Offers a choice to clients regarding how to scan drawing sets. archSCAN can scan blueprint sets or each page can be saved as an individual PDF (often we do both options). Our data entry technicians are fully trained for reading engineering drawings and understand how to correctly index the digital files as part of the scanning process.
Indexing the Scanned Documents
For indexing documents, our scanning solutions include barcoded databases to increase the speed and accuracy of the document conversion, and data entry of the important details contained within each document. This means capturing key metadata from the documents such as building name, project name, document issue such as as-builts, date, paper file location, and disciplines such as architectural, electrical, plumbing, and mechanical. Our staff includes archivists who are trained to read and properly index construction documents. The digitized documents can easily be integrated into a document management system after the scanning and indexing is complete.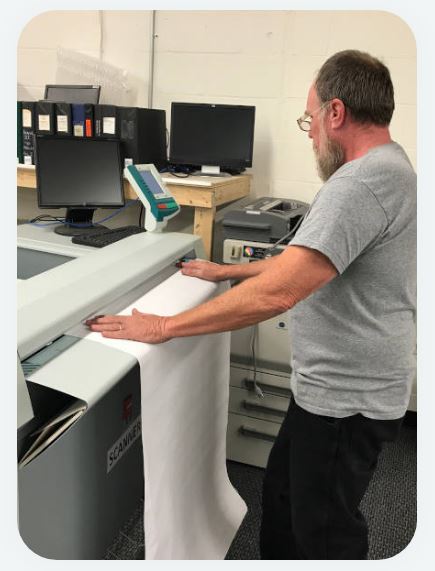 Additional Capabilities
Capacity to scan thousands of documents per day at our scanning facility
On-site scanning available
Quick turn-around and delivery
Locate and Retrieve Large Documents Fast
Your organization will save time by gaining fast access to its wide format documents from any computer, in the cloud, or from a mobile device  can place the newly digitized documents on CDs, DVDs, thumb drives, external hard drives, FTP site, in the cloud, or into a document management solution. For facilities departments, storing oversize documents such as construction plans placed within a document management system leads to a major improvement in operational efficiency.
OCR stands for Optical Character Recognition. The OCR conversion process converts an image file into a text file then the text file can be searched or edited in a word processor or other text-based application such as MS Word.
To provide our customers with the optimal OCR accuracy we use the most advanced Optical Character Recognition technologies and processes in the industry. It is important to know that the quality and condition of a paper document are key factors in the successful recognition of characters to create searchable text. By enhancing the quality of scanned original page with tools such as advanced color filter technologies to remove any page background colors, multi-light image capture technologies to remove any shadows cast by page creases that could impact image quality or recognition accuracy we achieve great rates of accuracy. However, the software is never 100% perfect, therefore, we offer various levels of service which attract different prices. These range from the basic delivery of the OCR software output (without any human checking or correction) or delivery of a fully verified and corrected version.OCR Conversion Options

DocuLand offers high accuracy OCR through our conversion services department. We manage wide range variety of jobs from 20 pages documents to millions of pages.
OCR or Optical Character Recognition refers to technologies that involve interpreting scanned images into searchable text. OCR enables users to search for and retrieve information within a file or page. Searches that once required hours or days to complete can now be done in seconds.

Auto OCR. This is a useful low-lost option if your aim is to convert documents into plain text and then plan on doing on your own editing. We will scan your documents and process them through our OCR software and give the results back to you in the format you require (.txt, .doc, .docx or other) in a language of your choice (currently up to 32 languages) and completely unedited. The level of accuracy ranges between 90%-99.6% depending on the quality of originals.

Full OCR. It would be right choice if your aim is to convert paper forms or documents into electronic environment so they can be edited or published on a CD or the Web. This process of conversion into accurate documents can be burdensome, especially where complex graphics and tables exist in the originals.

Benefits of OCR
Simplifies the process of searching specific keywords in a large volume of documents thus speeding up the review process.
Provides an alternative to data entry by means of searching and replacing certain keywords within document(s), or can be part of a mixed data entry/OCR process.
Accelerate document driven business process.
Secure capture of business critical information.
Release space.
Reduce cost of keeping and maintaining your documents and data.
Enables better risk management and loss of information.
Instant access to your stored documents.
Reduce cost and misfiled documents.
Secure capture of business critical information.
Our OCR Services
Access to the most advanced OCR software on the market.
High accuracy results – 98% fewer errors than conventional OCR for your entire project.
Optional character confidence reporting – If you wish to perform verification, we can provide the most accuracy "suspect" character marking of any OCR product.
Support for a variety of Image Resolutions – 200, 240, 300, 400, 600 including Standard FAX.